With the improved 4R36 movement that allows for both hacking (stopping the seconds-hand for flawless time sync) and manual winding. And though not a Golgo13 that would make you kill for, the
Seiko Monster Automatic
qualifies as a purchase to be treasured for a longer length of time.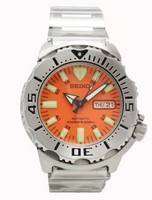 The
Seiko Monster Automatic
, apart from the quintessential orange dial, now embraces the sunburst finish. Purists found this even more funny, eccentric and jarring to their senses, but the image stuck on. However, the color doesn't reduce its rather utilitarian demeanor, only that at 42 mm, this might be inappropriate for those not with substantially thick wrists. But then again, it's our money and your choice and the world really doesn't have the right to comment. You bang someone's head with it (it will hurt big time); that's when it seems you'll run into some trouble.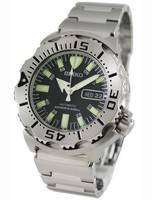 Something very surprising with the
Seiko Monster Automatic watches
is they sport a very interesting (and rather innovative) design for a diver watch and not exactly another Rolex rip-off. To say the least, it is an original design, a hell lot smarter than its predecessors. This proves a good and clear design need not always be a pure regulateur (three different hands within three different circles denoting hour, minutes and seconds separately) to look interesting or invigorating. The other very impressive feature – though not related to the mechanicals – is the bracelet. A Monster is not so without it – as a purist will say – and anything else shall be doing injustice to the drilled lugs. No other watch offers this feature within this price range.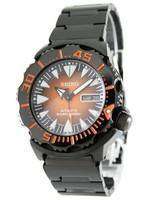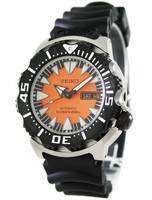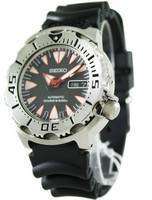 So to sum it up all, the
Seiko Monster Automatic watches
are large, heavy quality timepieces that might – at first glance – shall seem quite difficult to wear on a daily basis and will take some time to adjust to the wearer just like any other mechanical watches will. But expect nothing less than a +8/-12 seconds a day accuracy while breaking in and an amazing +5 seconds every week once broken in. Some might want the balance wheel to go above 21600 bph(slow beat) and the power reserve cross the 44 hours mark, but well, you get what you pay for and here you already got things pretty much in excess.